Watch for our next event.
 
Here's what attendees enjoyed at our previous event…
 
---
 
Is your LLC worthless, 
or is it a fortress?
 
Discover¬†the right way to¬†set up an LLC, protect your assets, and save on taxes, at our FREE…¬†¬†
MAIN EVENT   
     
Special presentation by Bill Noll,
 
 
This special Main Event is FREE for all attendees!
 
  
PLUS: get even more LLC and tax techniques from Bill at his Power Workshop on Saturday, March 19, 9:00 a.m. to 3:30 p.m., at the Best Western Plus Hotel & Conference Center, 5625 O'Donnell St., Baltimore, MD 21224 (at the Baltimore Travel Plaza, with easy access just off I-95)
. 
 
All LLCs are 

not

 created equal!  You need the right kind of LLC for both asset protection and tax savings.
 
National expert Bill Noll, who worked closely with the late, great Al Aiello, is coming to Baltimore REIA to share his wisdom with you.
 Bill's topic is "Extraordinary Asset Protection Without Expensive Lawyers." He'll cover:
How to protect all your assets — personal and business — without adverse tax consequences, with reduced IRS audit risk —¬†without complexity, and without costing a fortune — unique advice you have not heard before!¬†




 

Why having an LLC for every property is not only expensive but still does not totally protect you.¬† There's a better, easier strategy that you will love — and so will your wallet!




 

How to prevent stressful, expensive lawsuits.




 

How to protect your property equity with a little-known yet powerful technique. 




 

How to legally deduct educational and startup expenses even if you haven't done a deal yet — this could be a major tax-saving windfall!
PLUS: Powerful tax-saving strategies that can help you keep more money in your pocket year after year.  Let Bill show you how to:
Set up the right entity structure to save $1,000s.
 

Maximize your deductions to maximize tax savings.




 

Avoid money-draining, time-wasting IRS audits.




 

Avoid bad CPAs who can cost you a fortune.

PLUS: Bill will save some time for questions, so bring yours.
 Don't miss your opportunity for to hear this renowned LLC, wealth protection, and tax expert at our FREE Main Event on Thursday, March 17.
FREE BONUS: Attendees get Bill's Special Report: "Show Tax Losses on Your 1040, Yet Show Lenders You Are Making Money!"  That's right, a FREE meeting and a FREE report.
Get even more of Bill's wisdom at his Power Workshop on Saturday, March 19, from 9:00 a.m. to 3:30 p.m. at the Best Western Plus Hotel & Conference Center. 
off the price at the door!
It takes more than an evening for Bill to even begin to share his asset protection and tax-saving strategies with you.  So he's staying in town to bring you much, much more, with several hours of powerful content, including many more ways to:
Legally save thousands in taxes every year… avoid¬†costly IRS audits… save on accounting and legal fees… and avoid bad, expensive advice.




 

Create huge deductions with no cash out, yet pocket tax-free cash!




 

Deduct any amount of property losses with no limits.




 

Avoid the big costs of being a dealer.




 

Sell properties tax-free and keep all the profits.
PLUS: How to get your last 3 years' tax returns reviewed to eliminate IRS audit red flags and get refunds of overpaid taxes!
PLUS: Access to the country's best real estate CPAs (Bill's secret list) and an ongoing email help line for prompt answers to tax questions.
BONUS: Get Bill's e-book, "Millionaire Tax Strategies for Real Estate Investors," a $199 value, FREE for attending the workshop!
The cost for Bill's Power Workshop?  A mere $29 for Baltimore REIA members and $49 for non-members. But it's $20 more if you wait until the day of the event and pay at the door.  Sign up now for this limited-seating event.
Registration begins at 8:30, so get there early, grab a good seat, and do some networking.  Bill's presentation starts at 9:00.   
You'll enjoy savings on our meetings and events all year long… vendor discounts including a 2% rebate from Home Depot… and a FREE welcome kit¬†with $197 worth of DVDs from our own experts.¬†¬†¬†¬†
Everyone is welcome at Baltimore REIA, and every Main Event starts with our Newbie Meet & Greet. 
 
 
New to Baltimore REIA?  New to investing?  Join us from 6:30 to 7:00 for our Newbie Meet & Greet.  Learn more about the club and feel free to ask any question about real estate investing.  We're an association of investors, for investors.  In other words, we're here for you.
Come and get the¬†networking and real-world education you need to build wealth.¬† Bring your business cards — you may find a deal right at this meeting!¬†¬†
Our Main Event is 6:30 p.m. on the third Thursday of each month at the Sheraton Baltimore North, 903 Dulaney Valley Rd., Towson, MD 21286.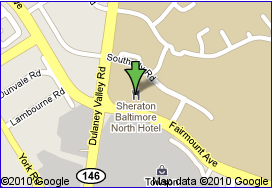 You'll enjoy our great meeting place with plenty of parking and a special discount for all of our meeting attendees.  
When you enter the garage you'll receive a ticket.  Take it to the front desk, pay the discounted fee, and they'll validate your ticket.
Want even more education from Baltimore REIA?  Check out our Inner Circle program.